Personal Leadership for Breakthrough Results


You are smart, successful by most standards, and also know it is time for you to step off the plateau you're on to reach for what's next in your professional or personal life.
Newfield's core, personal leadership program, Foundations, gives you new insights and practices to be more effective in leading—in all aspects of your life.  Through Foundations, you experience a new kind of learning that supports you in generating a more meaning-filled, satisfying, and powerful life, consistent with what matters to you most.
This safe and powerful learning environment gives you access to choices previously unavailable to you. You will learn linguistic, emotional and somatic practices that allow you to shift how you see the world and, therefore, how you experience and take action in your professional and personal life.
In Foundations you will:
Generate breakthrough results in your professional and personal life
Learn how to navigate complex issues with greater ease and less fear.
Learn distinctions, models and practices that allow you to general new results.
Show up with greater presence and wisdom for greater impact.
Learn how to live a life you love – aligned with what you care about
Experience the body as a territory for learning and learn practices that shift limiting patterns of movement
Build new foundations of conscious learning that boost your capacity for professional and personal excellence in leading others.
---
Who is this program for?
Foundations integrates both time-tested and newly emerging learning concepts and approaches that weave together conceptual, emotional, somatic, and spiritual learning practices that give you access to choices you didn't know you had and results previously thought impossible to achieve.   You will learn to lead in your life with greater capacity, satisfaction, skill and confidence.
Participants from all walks of life will find new ways to engage with their cares and concerns and learn to lead others in generating breakthrough results.  Join us if you are an:
Educator
Manager
Business professional
Organisational leader
Parent
We live and work in a time when we are challenged to question everything we know. Our traditional ways of leading, managing, and teaching and our traditional interpretations and ways of acting are insufficient to address the concerns we now face.
—Julio Olalla, founder, Newfield
Program Structure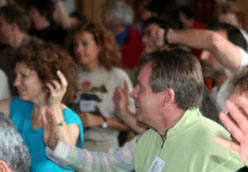 Two, in-person conferences are led by an international team of experienced, skilled facilitators and certified coaches.  The conferences produce a rich learning context which helps you discover new actions and new ways of thinking. Conference activities include:
Newfield's distinctions and models for personal and professional excellence
Individual and group coaching sessions
Small and large group interactions
Experiential learning activities in the 3 domains of language, moods/emotions, and somatics
In the 4 months between conferences, you will be involved in a variety of activities to deepen your conference learning. These activities include one-to-one coaching with a Newfield Certified Coach®, learning guides and readings, teleclasses and webinars, study groups, learning groups, and participation in online forums.
This program is open to persons 18 years old and above. The program is conducted in English.
For more information, email us or phone +65 6338 2280.